After 3rd wave , Now people are concerned for Booster dose and precautionary dose of covid 19 vaccines. Here is detail on How to Book COVID 19 precautionary dose and How to Book slot for booster dose. After reading this you can easily book Precautionary dose on cowin and vaccine booster dose on cowin portal. This will help you to give a 3rd layer security and You will be fully vaccinated against new variants. lets See details of this .
How to Book COVID 19 precautionary dose
Starting from today that is 10th of April India has launched the covid-19 precautionary dose or you can say covid-19 booster dose for all the citizens above 18 years of age. Now every Indian citizen who is 18+ can take precautionary dose or booster dose from any of the the covid-19 vaccine centres all over India. In this article we are going to talk about how to book the slot for covid-19 precautionary dose and book slot for booster dose by step by step process. Stay tuned with complete article to understand and book your booster dose and precautionary dose sitting at your home today itself.
---
---
Here is a tweet by the Union health ministry which was announced on Friday. However the booster dose will be available only at private vaccination centres, the ministry said and prices also disclosed which we have mentioned in last paragraph.
#LargestVaccineDrive

➡️ Precaution Dose to be now available to 18+ population group from 10th April, 2022, at Private Vaccination Centres.https://t.co/lmnT0NQXyN pic.twitter.com/U49UVJAPUt

— Ministry of Health (@MoHFW_INDIA) April 8, 2022
Here is a step-by-step process to Book COVID 19 precautionary dose and to Book COVID 19 Booster dose by arogya Setu app, Cowin portal and Cowin App also.
Firstly, log in to Cowin App or Cowin website ( https://selfregistration.cowin.gov.in/ )
To BooK Slot for Precautionary dose or Booster dose ,Click Login
Enter Mobile Number registered for 1st and 2nd Dose.
OTP will be sent to the registered mobile number instantly.
Once you have entered the OTP, you will see details of the first,second covid 19 vaccine doses and a new tab of 'Precaution Dose'. You will also see the number of days left for the booster dose/Precautionary Dose and the due date.
Click on the Button 'Schedule Precaution Dose' and can start booking vaccine centre visiting appointment.
Search for PIN code of area you wnat to take precaution dose of covid vaccine. You can also select the district and state accordingly.
Click and select Vaccine centre and the time slot.
Upon successfully booking a slot, its details will be visible on the screen.
After Precautionary dose or booster dose Booking You will receive a message from VM-NHPSMS on your registered mobile number. An OTP will also be sent to show the vaccination centre by you.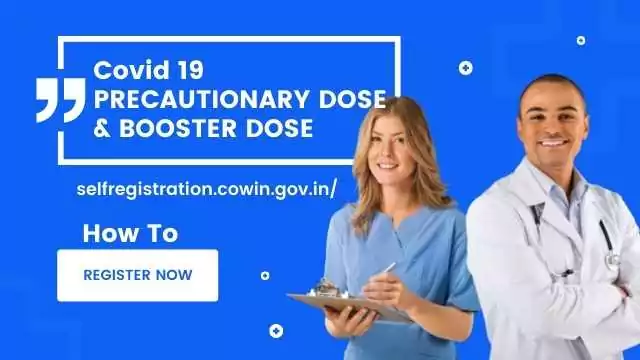 Cost of Precautionary dose in India
Earlier it was said that Covishield will be charged at 600 Rs. for Precautionary or booster dose but Finally today price is decided as 225 rs. of #COVISHIELD vaccine for private hospitals . Its reduced from Rs 600 to Rs 225 per dose as informed by SII CEO Adar Poonawalla .
Whereas Bharat Biotech Co-Founder Joint Managing Director Suchitra Ellasaid that we have decided to revise the price of #COVAXIN from Rs 1,200 to Rs 225 per dose. Now the Covid 19 Precautionary dose Price and covid 19 booster dose price is Rs.225 for everyone above 18+ Age
eligibility for precautionary dose/booster dose
There is 2 eligibility conditions for people to get their covid 19 Precautionary dose and the Booster dose. they are as follows :-
Age must be 18 years above i.e 18_ Age is a must for Booster or precautionary dose in India
There must be 9 months or greater after you took the 2nd dose of the Covid 19 vaccine. Better understand by example. If you took the 2nd DOSE of Vaccine on 1st JULY 2021 and if you want to take vaccine on 10 April 2022 then you need to calculate the gap between these 2 dates and that should be greater than 9 months. Here it's 9 months and 9 days so This person is eligible for Covid 19 Precautionary dose and the booster dose.
Several Covid vaccine centres in India ,
Covid vaccine centres in Delhi
COVID Vaccine centres in Pune
Covid vaccine centres in Kolkata
COVID Vaccine centres in nagpur
Covid vaccine centres in Mumbai
Covid vaccine centres in Ranch
Covid vaccine centres in Patna
COVID Vaccine centres in Thane
Covid Vaccine centres in Aurangabad
We above explained you all about detailed ways on How to Book COVID 19 precautionary dose, Book slot for booster dose so you can learn and book it as soon as possible. Contribute by taking vaccine and making india covid free soon.If you have any doubt, Query You can ask e in comments. Keep visisting website Nta Exam Results for Vaccines centres and vaccine booster and precautinary dose.
covid precautionary dose registration
covid precautionary dose registration starts from 10th April 2022 from 12 am . You all can book slot for precautionary dose or covid precautionary dose registration can be doen on cowin portals from 10th April as stated by health ministry of india
how to book booster dose in India
i have explained step by step process above on how to book bosster dose in india and whats teps need to follow after opening Cowin to OTP and Booking slot and time. So go through detail process above.
cost of precautionary dose in India
cost of precautionary dose in india is fixed at Rs. 225 by Covishield as wellas Covaxin . Earlier it was priced higher but for Precautionary doses or booster doses its reduced to 225 Rs.
is precautionary dose free in India
No,precautionary dose is ot free in india. It's just free for Frontline workers and Healthcare workers in India . rest have to pay amount of 225 Rs. for booster dose or say precautionary dose .
eligibility for precautionary dose
eligibility for precautionary dose is that you must be 18+ years in age and have completed 9 months of your 2nd vaccine dose accordingly. If you fullfil these 2 requirements you are eligible fot precautionary dose