23 JANUARY 2020 : Newspaper Reports out says NEW vacancy Soon !! See REPORT HERE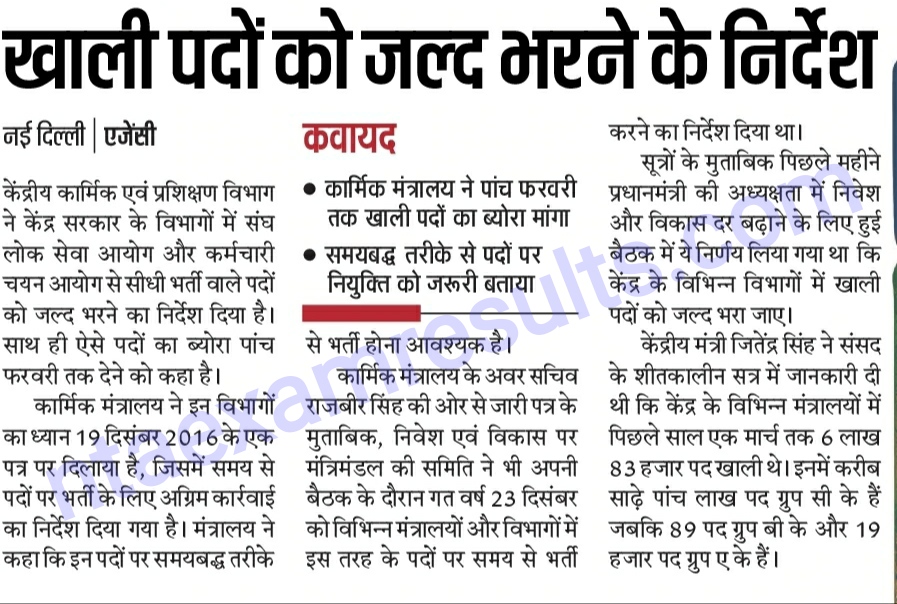 खाली पदों को जल्द भरने के निर्देश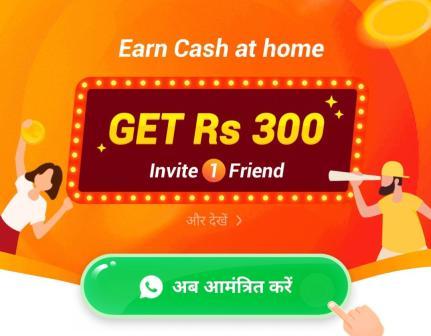 केंद्रीय कार्मिक एवं प्रशिक्षण विभाग
ने केंद्र सरकार के विभागों में संघ
लोक सेवा आयोग और कर्मचारी
5 877 आयोग से सीधी भर्ती वाले पदों
को जल्द भरने का निर्देश दिया है।
साथ ही ऐसे पदों का ब्योरा पांच
फरवरी तक देने को कहा है।
कार्मिक मंत्रालय ने इन विभागों
का ध्यान 49 दिसंबर 2046 के एक
पत्र पर दिलाया है, जिसमें समय से
पदों पर भर्ती के लिए अग्रिम कार्रवाई
का निर्देश दिया गया है। मंत्रालय ने
कहा कि इन पदों पर समयबद्ध तरीके
कवायद
० कार्मिक मंत्रालय ने पांच फरवरी
तक खाली पदों का ब्योरा मांगा
समयबद्ध तरीके से पदों पर
नियुक्ति को जरूरी बताया
क्नााा-77 -::::-:-:-
से भर्ती होनां आवश्यक हे।
कार्मिक मंत्रालय के अवर सचिव
राजबीर सिंह की ओर से जारी पत्र के
मुताबिक, निवेश एवं विकास पर
मंत्रिमंडल की समिति ने भी अपनी
बैठक के दौरान गत वर्ष 23 दिसंबर
को विभिन्‍न मंत्रालयों और विभागों में
इस तरह के पदों पर समय से भर्ती
करने का निर्देश दिया था।
सृत्रों के मुताबिक पिछले महीने
प्रधानमंत्री की अध्यक्षता में निवेश
और विकास दर बढ़ाने के लिए हुई
बैठक में ये निर्णय लिया गया था कि
केंद्र के विभिन्‍न विभागों में खाली
पदों को जल्द भरा जाए।
केंद्रीय मंत्री जितेंद्र सिंह ने संसद
के शीतकालीन सत्र में जानकारी दी
थी कि केंद्र के विभिन्‍न मंत्रालयों में
पिछले साल एक मार्च तक 6 लाख
83 हजार पद खाली थे। इनमें करीब
साढ़े पांच लाख पद ग्रुप सी के हैं
जबकि 89 पद ग्रुप बी के और 9
हजार पद ग्रुप ए के हैं।
( OLD NEWS )Police vacancy Latest JOBS vacancy in OCTOBER 2019. more than 11880 POSTS are vacant and BIHAR government have released vacancy for Police constable bharti 2019. All 12+ candidates can apply for this POLICE vacancy and get JOB.
Details of 11880+ Police Bharti -2019 police vacancy October 2019
Bihar Police Vacancy 2019 Latest News is Constable Recruitment 2019-20 Online Apply for 11880 Vacancies. in Ntaexamresults.com BLOG updates, you get Latest and Upcoming Bihar Police Notifications and Job Advertisements. Bihar Police Jobs 2019-2020 for 10th Passed, 12th Passed and Degree holders to be an appointment in the level of Constable, Sub Inspector, Head Constable, Driver Constables, Fireman, etc.
| | |
| --- | --- |
| POST NAME | VACANCIES |
| Constable | 11880+ |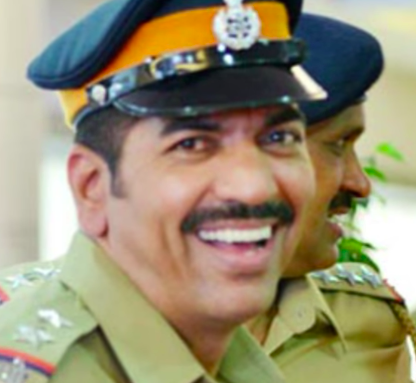 Bihar Police Constable Bharti 2019: Central Selection Board of Constable (CSBC) Government of Bihar state has announced recruitment notification. The Bihar police constable online form 2019 available from 5th October 2019 and registration process close on 4th November 2019
Advt-02-2019-for-Constable

October 2019 LATEST JOB Age limit,FEES and other details || Police job news 2019
Age Limit:
18 to 25 Years as on 1st August 2019. The age relaxation as per Bihar government rules.
Educational Requirement:
Min.10th Class with 12th class Pass or 10+2 pass in any subjects
Selection Procedure:
Written Examination + Physical Efficiency Test ( PET )
Application Fee:
₹ 450/- for General (UR) / OBC and other state candidates; ₹ 112/- for Bihar state SC / ST category candidates.
The fee should be made through online payment using credit / debit card or internet banking etc.
How to Apply:
Eligible candidates may apply online through CSBC Online portal. The closing date for submission of online registration is 04/11/2019 up to 12:00 Midnight
पुलिस में नौकरी के लिए आवेदन प्रक्रिया के साथ-साथ आपको पुलिस परीक्षा का सिलेबस पढ़ना होगा। क्योंकि इन पुलिस नौकरियों के लिए काफी प्रतिस्पर्धा होती है और सभी परीक्षा में अत्यधिक स्कोर करना चाहते हैं।
अपनी सरकारी नौकरी पुलिस परीक्षा उत्तीर्ण करने के लिए युक्तियां, पुलिस Bahrti ऑनलाइन फॉर्म, अध्ययन सामग्री, Police Bharti के लिए हाइट और अभ्यास परीक्षण आदि की जानकारी रख
CURRENT AFFAIRS 2019 पूरे साल का CURRENT AFFAIRS Free NOTES ) – CLICK HERE
कोई DOUBT या परेसानी - मुझसे CALL पे BAAT करे अभी !!
?मुझसे Direct Call ? पे बात करना चाहते है किसी बात की लिए।। Then Callme4 App se Mujhe call kar sakte hai 100% FREE.. Mera Callme4 id है – CompetitionDuniya@cm4 ( Search करे Call me 4 App में और Direct आपके सवाल पूछे ) Callme4 APP play store से INSTALL करने के बाद वहाँ SEARCH करे Competition Duniya