One of most important question for people who want to take admission in B.ed Courses . Its still not clear that When b.ed will be of 1 year or b.ed 1 year course admissions will happen in this session 2023 or not. After NPE 2020 implementation people are waiting and asking 1 year B.ed course admission 2021 and 1 year b.ed course kabse lagu hoga . Lets read out this article regarding your queries regarding B.ed 1 year course and try to find answers.
1 year B.Ed course 2023 | 1 year B.Ed kabse lagu hoga
As per This article is being updated on 14 February 2023 there is no update or any information regarding the regulation of one year B.Ed course. It's true that it has a mentioned in the new education policy but still there is no define curriculum or the initiative to start that one year course right now. So still you have two pursue to your course as soon as 1 year course notification is updated we will inform you over here to save this website for the latest updates regarding the query when B.Ed will be of 1 year
After the new Education Policy was announced, people searching and waiting for 1-year b.ed course. According to the new education policy, students who have completed their master's degree can do 1 year b.ed course . this will be very great help for the students who have completed their post graduation as they will not have to study that for 2 years and can complete this teacher training course i.e B.ed in just 1 year. now the question arises that still now there is no update regarding course starting.
it is expected that there will be some delay in starting 1 year b.ed course from this session i.e 2021 session. it might start from the year 2022 . So i won't recommend anyone to wait for 1 year B.Ed course and can take admission to normal 2 year B.ed courses going on.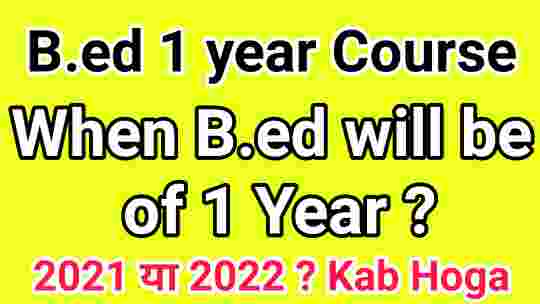 1 saal ka b.ed kab se lagu hoga | B.ed 1 year course admission
There is news of 1 year B.ed from many days and still we are searching 1 saal ka b.ed kab hoga and other queries . But let me tell you truth . There are several reason of delay in starting one year bed course . This can also be proved as Uttar Pradesh combined exam for b.ed entrance is being conducted. Uttar Pradesh combined b.ed entrance exam has no option of 1 year course.
Reasons Why 1 year B.ed course delayed & b.ed 1 year admission
Let's understand some of the main reasons why it is being delayed –
recently new education policy came into existence and yet rules regulations not made
For 1 year bed course, a new syllabus and new curriculum is required. so until it is prepared, the new b.ed of 1 year cant start.
They need to be a discussion with all the colleges and Universities teaching b.ed courses
what will be the exact minimum eligibility for 1 year b.ed course also needs to be decided
Kya Battlegrounds Mobile India Ban Hoga
CUCET 2021 COUNSELLING samarth Portal
Health Insurance related Questions
Khan sir Patna – KHAN SIR PATNA REAL NAME
Clubhouse Invite Code | Clubhouse invite Link
When b.ed will be of 1 year | 1 year b.ed latest news
So finally I would like to say that All students should stop taking tention regarding 1 year b.ed course admissions in 2021. most probably it is going to start from next year. as I already explained above about the several reasons due to which chances are not there for starting admissions in 1 year B.ed courses in 2021 itself. We will have to wait till 2022 , so that syllabus and course structure is made for the new 1 year B.ed course and then admissions can be started for postgrdautae students who wants to do B.ed degree course .
THANKS for reading this article .
Also Read ,
As Slowly New Education Policy will start enrolling, and as soon as New 1 year B.ed Curriculum and syllabus is made. Then 1 year B.ed course will start and students can take admission. I hope this article solves your queries regarding Who can study 1 year b.ed or when 1-year B.ed will start. Thanks