Hello, Neet Aspirants from Kerala! After NEET 2021 Exams Every student is eagerly waiting for Neet 2021 Cut off Kerala. In this post, you will know details of Neet 2021 Cut off for government colleges in Kerala. So that You can easily understand about Neet cut off 2021 in Kerala & Neet 2021 Expected cut off for Government Colleges in Kerala state.
There are 85% state quota seats in Kerala in NEET 2021. After you give the Exam, you search for Neet 2021 cut off for government college in Kerala, and that is why we are writing this blog post to tell you about both State Quota Neet cutoff Kerala. And students preparing hard for admission in AIIMS, you will surely want to know about Neet 2021 AIIMS Cut Off which is also already available on our website. To check all AIIMS including Delhi AIIMS Cut off 2021 Click Here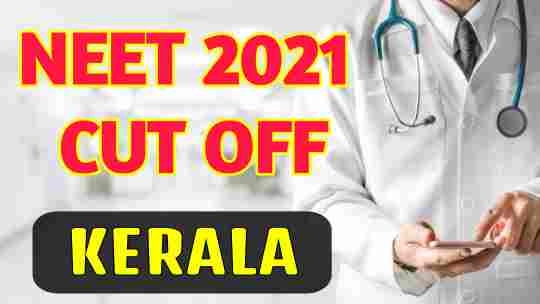 After the Neet 2021 exam, You can check your cut-off & Results at Neet 2021 Official Website. So now let's see Kerala NEET 2021 CUT OFF details.
NEET 2021 Expected Cut Off Kerala
In this cutoff post, we will tell you about the NEET expected CUT OFF 2021 for Kerala . After reading this you can get a clear idea that how much hard work and marks u need to score for Qualifying neet 2021 in Kerala. Previous year Marks ranks are analyzed and according to you can assume that this can be somewhere around Expected marks for Kerala Neet 2021.
| Category | Neet 2021 cut off Kerala |
| --- | --- |
| GEN | 615+ marks |
| SC | 490+ marks |
| ST | 470+ marks |
Neet 2021 cut off for government college in Kerala
There are 10 M.B.B.S Government Medical colleges in the state. All of the colleges with Neet Kerala cut off are listed below.
Here is NEET 2021 cut off Kerala for government medical colleges in the form of a Table mentioning the Neet AIR, as well as NEET Marks, scored in Kerala previously, so that you can plan and prepare accordingly for qualifying Neet Cut off 2021 in Kerala. This post will become very important as it helps you to know what happened in NEET Kerala cut off earlier and always you can assume +12 or -12 marks less or more in neet 2021.
| | | | | | | | | | | | | | | | | | | | | | | | | | |
| --- | --- | --- | --- | --- | --- | --- | --- | --- | --- | --- | --- | --- | --- | --- | --- | --- | --- | --- | --- | --- | --- | --- | --- | --- | --- |
| | | | SM | EZ | MU | BH | LA | DV | VK | BX | KU | KN | sc | ST cc | DA | DH | DK | EWS | HR | PD | NQ | PI | PT | SD | xs |
| College | Name of College | Type | | | Muslim | Hindu | Latio Cathalic | | kama | Christion | Kudumbi | Kusavan | Scheduled Caste | Scheduled Tribe NCC | Agarveda | Home | Dependenc issing | section | Defance | Disability | | individual | Sports Gvents | Serving Parsonnel | Exaevice Mien |
| KKM | Govt. Medical College, Kozhikkode. | Kerala Medical Rank | 328 | 613 | 396 | 544 | 1169 | 3223 | 696 | 892 | 10396 | 2929 | 5089 | 12325 1 | 3730 | 4649 | | 840 | | 38659 | | 2 | | 435 | 729 |
| | | NEET 2020 Mark | 663 | 651 | 660 | 654 | 633 | 588 | 648 | 641 | 488 | 593 | 559 | 464 | 579 | 565 | | 643 | | 160 | | | | 657 | 646 |
| TVM | Govt. Medical College, Thiruvananthap | Kerala Medical Rank | 452 | 665 | 510 | 705 | 1484 | 2226 | 1061 | 849 | 10828 | 3219 | 5977 | 15698 | 1769 | 15767 | 1688 | 1363 | | 41211 | 8465 | 1 | | | 825 |
| | uram. | NEET 2020 Mark | 656 | 649 | 655 | 647 | 625 | 608 | 636 | 643 | 483 | 588 | 547 | 422 | 618 | 421 | 613 | 628 | | 135 | 513 | | | | 644 |
| KTM | Govt. Medical College, Kottayam. | Kerala Medical Rank | 669 | 842 | 738 | 1017 | 1762 | 3242 | 1221 | 1240 | 11564 | 3310 | 7370 | 15074 2 | 4637 | 20849 | 40817 | 1403 | | 42577 | | | 1 | | 896 |
| | | NEET 2020 Mark | 649 | 643 | 646 | 637 | 618 | 588 | 631 | 631 | 473 | 586 | 528 | 430 | 566 | 357 | 140 | 627 | | 128 | | | | | 641 |
| TCM | Govt. Medical College, Thrissur. | Kerala Medical Rank | 748 | 969 | 781 | 1089 | 1928 | 3690 | 1088 | 1828 | 12179 | 3789 | 7404 | 16313 | 5852 | 20313 | | 1819 | 28975 | 42279 | | 3 | | | 864 |
| | | NEET 2020 Mark | 646 | 639 | 645 | 635 | 615 | 580 | 635 | 616 | 465 | 578 | 527 | 414 | 548 | 364 | | 617 | 261 | 128 | | | | | 642 |
| KLM | Govt. Medical College, Parippally, | Kerala Medical Rank | 790 | 2235 | 2072 | 1328 | 2973 | 6119 | 2675 | 2859 | 16464 | 7910 | 9359 | 18700 | | | | 2858 | | 41583 | | | | | |
| | Kollam | NEET 2020 Mark | 645 | 607 | 611 | 629 | 592 | 545 | 598 | 594 | 413 | 520 | 501 | 384 | | | | 594 | | 135 | | | | | |
| CMC | Govt. Medical College, Ernakulam | Kerala Medical Rank | 808 | 2202 | 1979 | 2018 | 2803 | 5836 | 2393 | 2215 | 13956 | 6356 | 9077 | 16717 | 8240 | | | 2232 | 19188 | 40812 | | | 3 | | |
| | | NEET 2020 Mark | 645 | 608 | 613 | 612 | 595 | 549 | 604 | 608 | 444 | 541 | 505 | 409 | 515 | | | 607 | 378 | 140 | | | | | |
| KNM | Government Medical College Kannur | Kerala Medical Rank | 953 | 2203 | 1888 | 1915 | 2890 | 4549 | 2103 | 2687 | 16227 | 7617 | 9092 | 17630 | | | | 2548 | | 43336 | | | | | |
| | | NEET 2020 Mark | 640 | 608 | 615 | 615 | 594 | 567 | 610 | 598 | 415 | 524 | 505 | 398 | | | | 600 | | 128 | | | | | |
| ALP | TD Medical College(Govt.), | Kerala Medical Rank | 955 | 1140 | 1144 | 1153 | 2163 | 3966 | 1411 | 1656 | 15241 | 5557 | 8899 | 17460 | 6215 | | | 2154 | | 36295 | | | 2 | 1641 | 1231 |
| | Alappuzha. | NEET 2020 Mark | 640 | 634 | 633 | 633 | 609 | 575 | 627 | 620 | 428 | 552 | 507 | 400 | 543 | | | 609 | | 184 | | | | 621 | 631 |
| MLP | Govt. Medical College, Manjeri. | Kerala Medical Rank | 962 | 2241 | 1982 | 1513 | 3226 | 5246 | 2502 | 3100 | 16186 | – | 9295 | 19113 | 7386 | | | 3129 | 33512 | 40283 | | | | | 2066 |
| | | NEET 2020 Mark | 640 | 607 | 613 | 629 | 588 | 557 | 601 | 590 | 416 | | 502 | 379 | 527 | | | 590 | 210 | 144 | | | | | 611 |
| PKM | Government Medical College, Palakkad. | Kerala Medical Rank | | 2236 | 2067 | 2081 | 3391 | 6127 | – | 3920 | – | – | 12513 | 19272 | | | | 2806 | | | | | | | |
| | | NEET 2020 Mark | | 607 | 611 | 611 | 585 | 545 | | 576 | | | 461 | 377 | | | | 595 | | | | | | | |
NEET cut off 2021 IMPORTANT LINKS:-
We discussed all aspects and details related to Neet cut off with you all aspirants. So now you are aware of Kerala neet cut off and you all can prepare well for neet 2021 EXAMS & give your Best. Keep working hard my dear friends. Your query regarding Neet 2021 cut off for government colleges in Kerala is answered with all details
ALL THE BEST for NEET 2021! YOU ALL WILL GET MBBS COLLEGES in Kerala. Keep visiting ntaexamresults.com for NEET latest news
Also, You can read these articles,
O nari Man Hari Song Lyrics – Manike Mage Hithe
Battlegrounds mobile India Beta APK Download
Clubhouse Invite Code | Clubhouse invite Link
IPL 2021 Channel | IPL 2021 live on which channel