JSSC Panchayat Secretary Cut Off 2018 Jssc Panchayat Sachiv Cut Off. panchayat sachiv Result 2018 soon. so final Official JSSC Panchayat secretary Cut off and Jharkhnad panchayat sachiv cutoff will be live. STay TUNED!!
Jssc panchayat secretary cut off 2018 Jharkhand SSC LDC exam merit list 2018 check SSC Stenographer and clerk exam cut off marks 2018 download Cut off marks and merit list of jssc exam 2018 jssc Panchayat Sachiv cut off 2018 jssc panchayat secretary cut off marks.Not only JSSC cut off but Panchayat secretary cutoff for different posts anfd Districts will be different and Will vary.So cutoff are never Exact.
After the declaration of JSSC PANCHAYAT SECRETARY 2018 Final Answer Key.( CLICK HERE if YOU have not CHECEKED Your FINAL ANSWER KEY). The Cutoff Queries for JSSC panchayat sachiv Post 2018 is coming. So Complete Detail about JSSC cut off and "JSSC Panchayat Secretary Cut Off 2018 or Jssc Panchayat Sachiv Cut Off 2018 " is discussed in the POST below!

About JSSC Advt. No. 01/2017 ( jssc panchayat secretary/sachiv Exam )
Jharkhand Staff Selection Commission related Adv.No 01/2017 in which announcing was done of 3088 posts of clerk, stenographer, and panchayat secretary. In Advt.no- 01/2017 many candidates fill their application form for the post. let's see something about the exam. there was only mains exam conducted panchayat secretary and other posts.
The exam was given by several thousand students on 21 January, 28 January, and 4 February 2018. The exam is written objective type. Exam paper 1 was a language test with 60-60 marks. paper 2 for the regional language with 100 marks. 120 marks with GK and other questions. Each question contained 3 marks.
FREE ENGINEERING Drawing .pdf NOTES- GET HERE
*Latest BEST Books for ALP CBT 2- CLICK HERE
Now let's talk about jssc panchayat secretary cut off 2018.O r we can say jssc Panchayat Sachiv 2018 cut off . you must keep in mind that Jssc has not announced any cutoff yet for Clerk, Panchayat sachiv posts. Final Results and CUT OFF will be Declared at http://jssc.nic.in and http://jssc.in
You all my friends were asking to give the expected cut off details of jssc Panchayat Sachiv. On our YouTube channel "Competition Duniya with Aman" 3 months back. There was a survey in which more than 3000 students voted you can watch this video here.
Latest comments many friends asked to make the expected cutoff video of Jharkhand panchayat secretary clerk post after the jssc Panchayat Sachiv final answer key releasing
Agar aapne Abhi tak final answer key Nahi Dekha Hai. YAHA Diye Gaye link ( CLICK HERE ) par jakar ke download kar sakte hain aur dekh sakte hain.
Many JSSC students ASK me that will Jssc Panchayat secretary or panchayat Sachiv CUT OFF will go Higher or not ?
JSSC panchayat sachiv 2018 Expected cut off that i mentioned is on the basis of My analysis and ALL JSSC students reply to survey – CUTOFF on SURVEY BASIS! CLICK HERE
Jharkhand Panchayat Sachiv Cut off is going to be different for different posts like STENOGRAPHER, LDC, GIRLS, and PAnchayat sachiv posts respectively.
How expected cutoff is decided or cut off of any exam is

decided?

JSSC Panchayat Secretary Cut Off 2018 / Jssc Panchayat Sachiv Cut Off ?
There are several factors for deciding cutoff expected cutoff for Jharkhand panchayat secretary exam like
– Number of students appearing in the exam
– Level of question on the day of the exam
– Number of shifts in which exam is happening
– Normalization which is the most important thing
Let's talk about normalization in brief for JSSC PANCHAYAT SACHIV Expected Cut Off
Normalization is a technique by which the same exam happening on several days and several shifts with several numbers of students marks are normally equalized all mathematical based formula. Several methods of normalization exist. Jssc also has given their method of normalization and a few months back I made a dedicated video on the methods of normalization
Normalization Kaise Hota hai how normalization happens click here to watch the video – https://youtu.be/GvfX9hmoztw
IB SECURITY ASSISTANT 2018 Exam BOOKS – CLICK NEWS
Cut Off Marks/ Merit List ( Expected without NORMALIZATION )
Finally I won't tell you to exact cut off but yes I will tell you a good score or expected score that if you achieve you will get good marks in jssc Panchayat Sachiv . and with the question of cutoff in panchayat secretary 2018 exam .we cannot give exact mark because after normalization someone getting 300 can get 380 . and student with a score of 420 can get 390 ?? it's very true, so don't be sad by seeing this marks because this can be 20 marks plus as well as -20 marks too.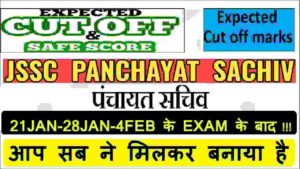 EXPECTED without NORMALIZATION !!
| CATEGORY | EXPECTED CUT OFF | CUT OFF ( Girl Quota ) |
| --- | --- | --- |
| General | 360-370+ | 290-300+ |
| OBC | 330-335+ | 260+ |
| SC | 260 -275+ | 210+ |
| ST | 210-215+ | 165+ |
A separate list is given as there was separate female quota also in this exam. Above JSSC PANCHAYAT SECRETARY/SACHIV Expected CutOFF is just on ANALYSIS and Expectations. Moreover Normalization will Play Role In Deciding Merit.
I hope you like this video of jssc panchayat secretary 2018 cutoff as well as expected cutoff of jssc Panchayat Sachiv 2018 examination.
For any query regarding jssc and other examinations, you can follow us and contact us and our several media pages like Facebook Twitter YouTube Instagram all the links are mentioned below.
Our YouTube channel link is also given. click and go subscribe for latest update
Jssc Panchayat Sachiv results 2018 query is also coming to me.
READ JSSC POSTS –
BREAKING NEWS !!!!! LEAK ! LEAK ! News coming BSSC question leaked
Let me tell you, my friend, jssc panchayat secretary 2018 result will come soon it is expected in the coming month that is November 2018. After final result declaration of jssc panchayat secretary 2018 computer and Hindi typing test for jssc Panchayat sachiv exam will be taken. Focus on jssc Hindi typing. Basic computer test PowerPoint MS Word MS Excel etc.
What's your suggestion on jssc panchayat secretary cut off 2018 marks do comment just know your opinion thanks a lot for reading Our Post.
You can comment your jssc Panchayat Sachiv secretary 2018 marks after final answer key so that we can know our all YOUR EXPECTED cutoff of jssc Panchayat Secretary examination.
"JSSC Panchayat Secretary Cut Off 2018 Jssc Panchayat Sachiv Cut Off"
Dont worry …. just Study hard !! Cutoff are Just prediction!! More Updates of JSSC PANCHAYAT Secretary Cutoff and Jssc panchayat Sachiv Result dates / cutoff keep Tracking Folllowing our WEBSITE !!!!
according to latest update in jssc Panchayat Sachiv Results and Revised Final Answer KEY release dates is Expected to be in DECEMBER. According to JSSC this is Expected. So then you will Know FINAL CUT OFF of JSSC Panchayat secretary cut off.