JSSC Panchayat Secretary Cut Off | Jssc Panchayat Secretary expected cut off marks Details. Expected Cut off Jssc Panchayat Sachiv 2018 Exam
You might be Thinking Many Questions like–
Jssc panchayat secretary cut off 2018  and Jharkhand SSC LDC exam merit list 2018. Also, check SSC Stenographer and clerk exam cut off marks 2018 download Cut off marks and merit list of jssc exam 2018. jssc Panchayat Sachiv cut off 2018  & jssc panchayat secretary cut off marks. Expected Cut off Jssc Panchayat secretary is going to be DISTRICT wise , depending on various Posts and also Many expects for cutoff.
How We Analysed Expected Cutoff Panchayat Sachiv?
जैसा कि पहले पोस्ट में मैंने आप सब को बताया था कि आपके एनालिसिस और आपकी दिए गए MARKS pe आगे बढ़ेंगे और फिर से Jssc CUTOFF उसकी वीडियो लाएंगे , जिसमें कि आप सबके बताया मार्क्स के आधार पर हम यह फैसला करेंगे कि क्या एक एक्सपेक्टेड कट ऑफ (Expected cut off) हो सकता है .तो यह पोस्ट को ज्यादा से ज्यादा शेयर करें ताकि सभी लोगों तक पहुंचाई जा सके!
SO Below Some Screenshots are also there Of marks . IF you HAVE not SUBMITED Your JSSC Panchayat Sachiv/Secretary Exam MARKS (अगर आपने अपना पंचायत सचिव का मार्क्स अभी तक जमा नहीं किया है तो यहां क्लिक करें और अभी अपना मार्क्स हमें बताएं ताकि आने वाले भविष्य में आराम जानकारी इकट्ठा कर पाए) – CLICK HERE NOW and SUBMIT
After the declaration of  JSSC PANCHAYAT SECRETARY 2018 Final Answer Key.( CLICK HERE if YOU have not CHECKED Your FINAL ANSWER KEY). The Cutoff Queries for JSSC panchayat sachiv Post 2018 is coming official. Many Questions Coming that When JSSC Panchayat secretary RESULT is Coming Official News and Cut off. SO guys In Brief now i can Say You that wait for 1 Month…..
About JSSC Panchayat Secretary CutOff and ITS Exam! JSSC panchayat sachiv RESULT soon and so on Cutoff jssc panchayat secretary too !!
Jharkhand Staff Selection Commission related Adv.No 01/2017 in which announcing was done of 3088 posts of clerk, stenographer, and panchayat secretary. Here many candidates fill their application form for the post. There was only mains exam conducted panchayat secretary and other posts. 
                                                                                              The exam was given by several thousand students on 21 January, 28 January, and 4 February 2018. The exam is written objective type. Exam paper 1 was a language test with 60-60 marks. paper 2 for the regional language with 100 marks. 120 marks with GK and other questions. Each question contained 3 marks. Paper 2+ PAper3 marks will be ADDED for Merit.
Now let's talk about jssc panchayat secretary cut off 2018.O r we can say jssc Panchayat Sachiv 2018 cut off . you must keep in mind that Jssc has not announced any cutoff yet for Clerk, Panchayat sachiv posts. Final Results and CUT OFF will be Declared at http://jssc.nic.in and http://jssc.in
 You all my friends were asking to give the expected cut off details of jssc Panchayat Sachiv. On our YouTube channel "Competition Duniya with Aman" 3 months back. There was a survey in which more than 3000 students voted you can watch this video here.
कैसे होती है

How expected JSSC Panchayat Secretary cutoff is decided?
Panchayat Secretary Cut off Depends on MANY REASONS  LIKE-
– Number of students appearing in the exam 
– Level of question on the day of the exam
– Number of shifts in which exam is happening
– Normalization which is the most important thing
Normalization Kaise Hota hai how normalization happens click here to watch the video – https://youtu.be/GvfX9hmoztw
चलिए, तो देखते हैं आप सब ने जो बताया उसके आधार पर क्या Expected कट ऑफ हो सकता है ?
So now I am attaching a different screenshot of students marks. This is submitted on our page. There are different districts. and in this particular examination, they are different posts. Posts for Panchayat Sachiv, shorthand, typing etc. So for every district, the cutoff should be different. So don't think that the cutoff expected or cutoff which I am saying is the final one. No according to the district it's going to be changed. BUT yes it's not going to change more than 20 or 30 Marks. plus or minus. Remember it's cut off without normalization,don't confuse it.   
THESE ARE FEW Screenshots.. Check details here- CLICK HERE NOW and SUBMIT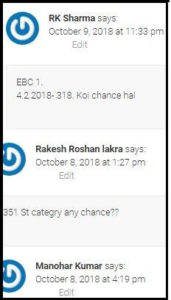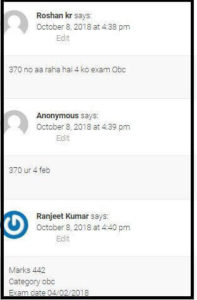 यह

CUTOFF

बिना

NORMALIZATION

के और

नाही DISTRICT वाइज

आधार पर बनाया गया है ! क्योंकि NORM. के बाद 30 से 40 नंबर बनाया घटना स्वभाविक है ..
Friends you can also go and watch it clearly visit page of JSSC PANCHAYAT SECRETARY CUT OFF MARKS 2018 where marks was submitted .News is that maximum students have scored between 350-400 MARKS. Few have scored 410-420+ marks. Rest maximum is between 330-390 ?? Am i right ?
| CATEGORY | EXPECTED CUT OFF | CUT OFF ( Girl Quota ) |
| --- | --- | --- |
| General | 360-370+ | 290-310+ |
| OBC | 330-338+ | 260+ |
| SC | 260 -275+ | 205+ |
| ST | 210-215+ | 165+ |
A separate list is given as there was separate female quota also in this exam. Above JSSC PANCHAYAT SECRETARY/SACHIV Expected CutOFF is just on ANALYSIS and Expectations. Moreover, Normalization will Play Role In Deciding Merit.
I hope you like this video of jssc panchayat secretary 2018 cutoff as well as expected cutoff of jssc Panchayat Sachiv 2018 examination.
For any query regarding jssc and other examinations, you can follow us and contact us and our several media pages like Facebook Twitter YouTube Instagram all the links are mentioned below.
Our YouTube channel link is also given. click and go subscribe for latest update
Jssc Panchayat Sachiv results 2018 query is also coming to me.
TYPING-COMPUTER TEST THEORY for JSSC Panchayat Secretary is LIVE on UNACADEMY ! 6 CHAPTERS PUBLISHED. क्लिक करें और #UNACADEMY pe muhsसे जुड़ जाएं. ऐसे ही 20 से 25 चैप्टर हिंदी टाइपिंग – कंप्यूटर की आती रहेंगी  – https://unacademy.com/user/aman210496
Also friends
You can comment your jssc Panchayat Sachiv secretary 2018 marks after final answer key so that we can know our all YOUR EXPECTED cutoff of jssc Panchayat Secretary examination.
"JSSC Panchayat Secretary Cut Off 2018 / Jssc Panchayat Sachiv Cut Off" blog was this. If u need New Topic Do Message me…
FOR All JSSC related Exams, JSSC PANCHAYAT SACHIV CUT OFF,ANSWER KEYS and RESULTS detail. You CAn follow US on Links Given Below –
YOUTUBE- https://www.youtube.com/CompetitionDuniyaWithAMAN
FACEBOOK- https://www.facebook.com/CompetitionDuniyaWithAman
TWITTER-  https://twitter.com/amankumar210496
Also You can Visit http://jssc.nic.in  FOR LAtest Updates.
AND who has not Seen ANSWER KEYS – CHECK OUT !
Links to Download/Check JSSC PANCHAYAT SACHIV FINAL ANSWER KEY-
Final Answer Key of JSSC P.S. IS(CKHT)CCE-2017 conducted on 21.01.2018 – CLICK HERE
Final Answer Key of JSSC P.S. IS(CKHT)CCE-2017 conducted on 28.01.2018 – CLICK HERE
Final Answer Key of JSSC P.S. IS(CKHT)CCE-2017 conducted on 04.02.2018 – CLICK HERE
*FOR LATEST Exams and Other UPDATES including JSSC cutoff – LATEST POSTS
If U have any Query or want To Contact Me! Check out the LINKS below!
YOUTUBE- https://www.youtube.com/CompetitionDuniyaWithAMAN
FACEBOOK- https://www.facebook.com/CompetitionDuniyaWithAman
TWITTER-  https://twitter.com/amankumar210496
 ANY QUESTION ???? ASK BELOW BY Commenting !!! Thanks for Visiting…See you Soon AGAIN!
According to JSSC the Final results and jssc panchayat secretary Cutoff or JSSC panchayat sachiv Cut off will come as soon as Final Result comes in DECEMBER !!!