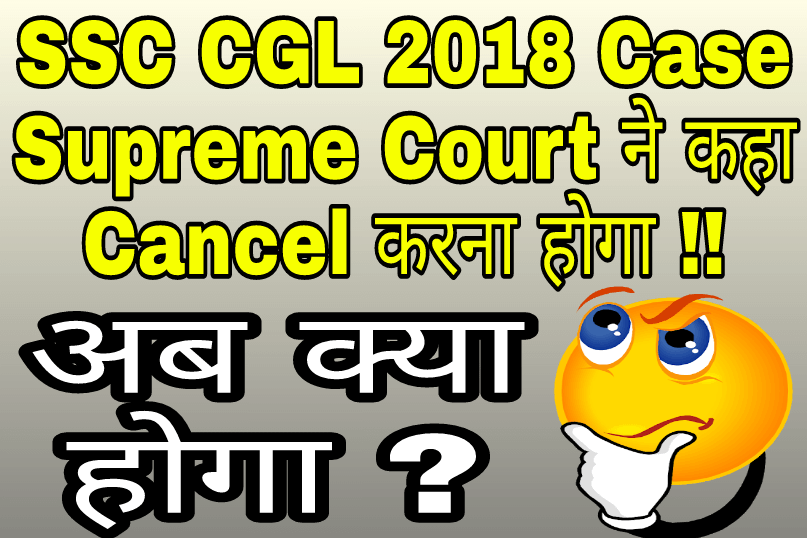 SSC CGL 2017 CASE Update by Supreme court 29th November.SC favours SSC CGL 2017 scraping ,SSC CGL 2017 Supreme court Order.
SSC CGL 2017 CASE Update by Supreme court 29th November
The Supreme Court has made an important comment during the hearing of the irregularity case in the SSC CGL 2017 exam. The court said that it is better to cancel the exam of 2017 SSC CGL and get a fresh start. The Supreme Court has sought a response from the Central Government on this issue. In the earlier hearings, the Supreme Court had banned declaration of the results of the combined Graduate Level (CGL) and Senior Secondary Level Examination of SSC 2017.
Supreme court Ssc CGL 2017 case News !29 nov. ssc CGL case Update

!
What can happen in the next hearing. This is the main question the Supreme Court has it was clearly mentioned that ,the SSC CGL 2017 was compromised this is fair exam.
Supreme Court clearly said that SSC CGL 2017 examination ,mass number of students are found in cheating . and it cannot be denied that the exam was compromised , was not possible remove and select the students were cheated and leave the exam as it is because large number of students are intelligent cheating that's why it's not possible to remove them they have also
Central Government that what are the possible cases . has given clear instructions or intimation that the exam should be cancelled because there is no way to sort out this. earlier in August Supreme Court has banned or stop SSC from publishing the result and the result was stopped by after use must protect. also every year this happens there is no clear who govern exam was to be cancelled, then it must have been done that time because large number of students are going to suffer now.
this is the worst condition in education system of present India .SSC CGL examination one of the most prestigious examination who has been conducted in India it must be seen that this is not acceptable by any cost.
SSC Exam 2017 Paper Leak Case: In the 2017 SSC Paper Leak case, there was a hearing in the Supreme Court today. While hearing in this case, the Supreme Court show in favor of repealing the SSC exam 2017.
The court said that in the paper leak case of the Online Main Examination held in February 2018, the beneficiary of the paper leak.
ALSO, Read Following VAcancy Details-
* Jssc Panchayat sachiv Cut Off- CLICK here
* RRB Group D Cutoff  – Click Here
*Neet 2018 Latest News – Click Here
*Jssc panchayat Secretary cutoff- Click Here
ALSO, you CAN watch VIDEO on THIS by ME – https://youtu.be/ThR1KH-ThYI
ABOVE books Are Beneficial When you Look after Syllabus of IB security Assistant 2018 vacancy and How Exam will be Contacted.
DOWNLOAD  IB SECURITY ASSISTANT STUDY MATERIAL / PREVIOUS YEAR IB exam questions .pdf here– DOWNLOAD NEW !! Click HERE  !!
All IB security Assistant BOOKS and Study material post Coming. STAY tuned with This site for Intelligence Bureau IB security assistant exams and Books.