Mahatma Gandhi Ji mainly focuses on Basic Education. He says that "Literacy in itself is not education".It is only one of the means whereby man and woman can be educated . He emphasizes on fact that By education he means an all-round development and to bring best of child and man—body, mind and spirit.His conception of education stands for harmonious development of all aspects of human personality-Physical, Intellectual and Spiritual.
The proposed programme of Basic Education can was explained into the five points which mainly focuses and several things like cleanliness and healthy hygienic life which also includes cleaning and decoration of schools as a part of social life of Schools. Second Limo importance should be given for practicing of self dependence and basic craft like ok or dinner refarming or clay work paper work so that they can develop some basic skills and become self-independent. in this row practice of citizenship cultural activities is also required for overall development of a child.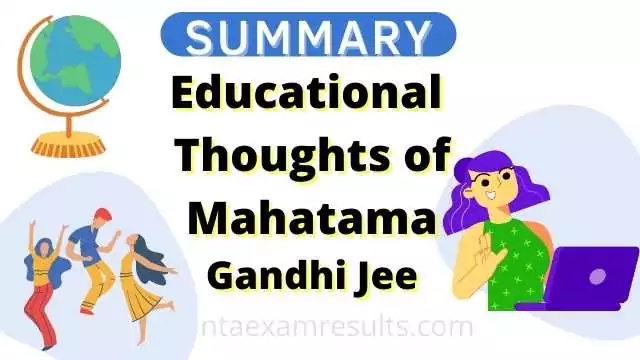 All Round Development is one of main thing Gandhiji wanted to develop the whole man through education. He wanted to train the hand, heart and head of the child. Thus, he emphasized on concept of 3H'S .
Wardha Conference, Oct. 1937 focussed on Medium of instruction given,Vocational training, Course of primary education upto 7 years and most important that 7-14 Years should be under Free & Compulsory education. Gandhiji devised a scheme of education which is known as "Basic scheme of Education" and Its curriculum is activity-centered where He suggested the subjects like craft as the medium of education. He suggested a number of crafts such as spinning and weaving, agriculture, gardening, woodwork, etc. He also said about medium of delivering education should be in mother-tongue. Gandhi suggested that other subjects that other subjects such as social studies, General Science, Art, Music and Drawing should be included in the curriculum. Be updated with us.
Lastly we also see that Nai Talim was discussed which signifies Education of everybody at every stage of life. He discussed mainly 5 levels which can be sorted under following points :-
1) Adult Education which includes Parent & Community
2) Pre Basic Education for childrens under 7 years age
3) Basic education for 7 to 14 years age and brief details of qualities in basic education we discussed above also.
4) Post Basic education level which includes mainly 15 – 18 Years pupil and studnets
5) University Level
Also viewing Gandhi ji's Teaching methods where he focuses on Spiritual significance
, Activity centred and holistic development.Productive craft as the basis of all education and The medium of instruction to be mother-tongue is main focus with emphasizing on the development of Cognitive- Affective-Psychomotor domains efficiently so that there can be all round development seen.
It's said that Gandhian education is basically Eclectic in nature because It's based on concept of Free & open education referred as Naturalism, Its focuses on imparting Values of life and hence rise in Idealism and lastly most of methods and practices based on Experiment leading to Pragmatism and due to these 3 pillars of facts i.e Naturalism,Idealism and Pragmatism Gandhian education is basically reffered as Eclectic in nature.
Before you Go, You can also Read,